In business, customer segmentation is matching the needs and desires of customers to offerings of a business. People often use terms of customer segmentation and market segmentation interchangeably, but they are quite different concepts in digital marketing, as explained below:
Market Segmentation
Market segmentation involves understanding specific strengths plus weaknesses from an organization and positioning the organization within each target market. For instance, the organization may be a small bank or lending agency with a focus on mortgage loans. It offers loans at relatively higher interests to self-employed people. So, if you look at it, the business has some weaknesses and a market segment to target.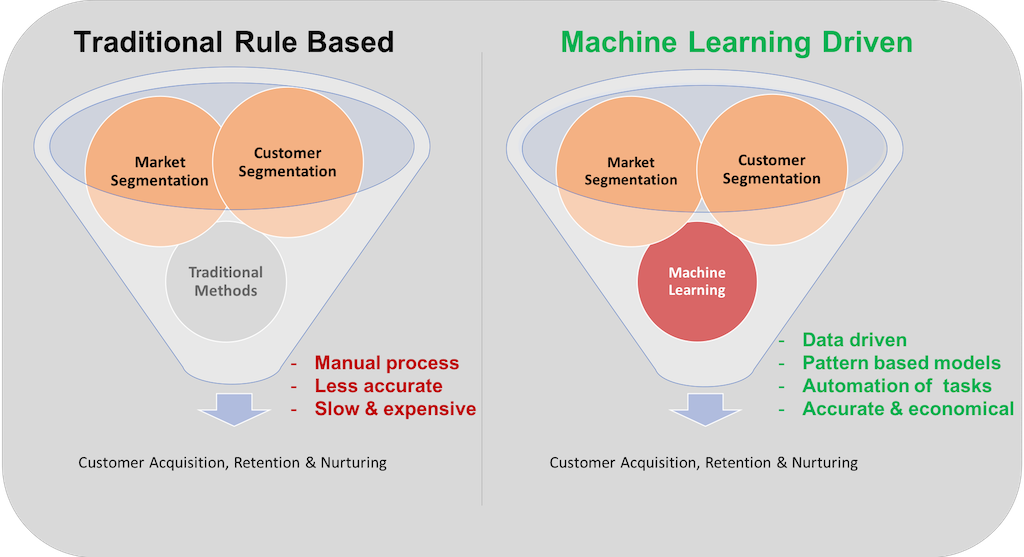 Customer Segmentation
Customer segmentation is a process of dividing customers into different groups so that they can offer customized services and customer experience. Customer segmentation lets a business to understand its existing customers and prospects and maximize profits based on its strengths and avoid risks, which may be caused by the weaknesses.
Benefits of Customer and Market Segmentation
If the business has done customer segmentation and market segmentation correctly, there are vast benefits of customer and market segmentation.
Market segmentation can help to achieve the following business benefits:
Marketing Planning
Price Optimization
Business Strategy
Customer Communication
Product Research
Product Development
Customer segmentation helps to achieve the following objectives:
Customer Base Analysis
Cross- and Up-Selling
Customer Experience
Customer Nurturing
Customer Retention
Customer Lifetime Value Analysis
Customer & Market Segmentation with Machine Learning & Data Science
1. Market Segmentation
Market segmentation is about collecting data related to target market segments and of competitors who are already in that market segment and analyzing it to validate business assumptions and hypotheses. We can use data science techniques to acquire data from internal and external data sources, preprocess, and clean it. Once data is cleaned, and in the tidy shape, we can also build machine models to validate the business assumptions - consequently positioning business and its products into the target market in a better way.
For instance, a medium-sized insurance business launching life and disability insurance (as offers) designed explicitly for individual and self-employed customers. The insurance company would like to make informed decisions towards marketing planning, pricing, and product customization. Data science and machine learning can help with analytics and insights so that the business can make informed decisions regarding marketing plans, pricing, and selling strategies.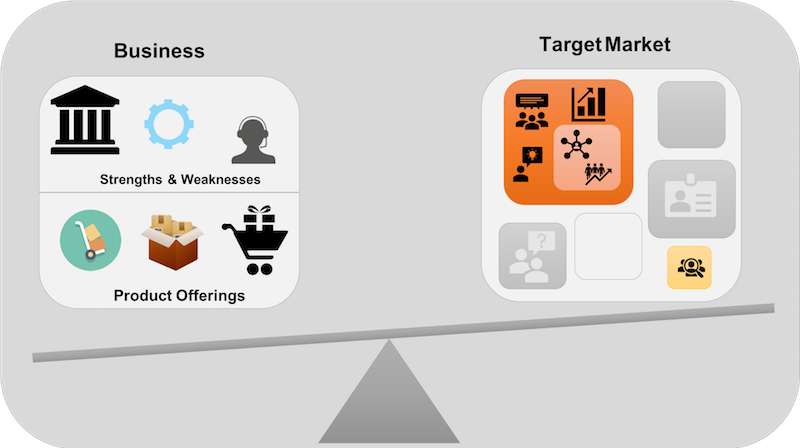 2. Customer Segmentation
Customer segmentation is about grouping customers into clusters based on demographic and behavioral attributes. Customer segmentation can be behavioral or demographic depending upon what type of customer attributes we use for segmentation.
Data science and machine learning is more helpful for customer segmentation than market segmentation because, in customer segmentation, business would have access to more data, especially coming from within the organization. Businesses could acquire behavioral and geographic data from internal and external sources, clean and transform it, and then apply machine learning models to find meaningful, coherent groups of customers.
A business can gain an unbeatable competitive advantage through customer segmentation. It can act as the ears and eyes of a business.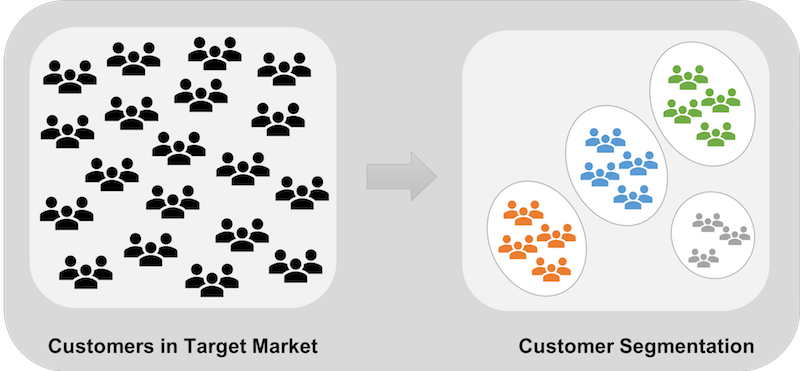 How can Datalya and machine learning help your business?
At Datalya, we help businesses to benefit from state-of-the-art machine learning and AI techniques. We are a team of highly experienced data scientists who have worked in the financial services industry for many years. We believe in empowering human workers with AI for accelerated growth.
If you have any questions, please feel free to drop your email at 'contact [at] datalya.com'
- Our Process
Step

01
You contact us through
a call or email
Doesn't matter whether your data problem is small or large, feel free to contact us providing as much details how we can help as possible.
Step

02
We provide you with
initial free consultaiton
We provide you with answers you are looking for and discuss needs of your data science or machine learning project in order to determine way forward. At the end of this consulation, we will also give a quote for the work to be done.
Step

03
You decided to engage
our data scientist(s)!
After reviewing quote, you decide to engage us to work on your project.
- Frequently asked questions
No - we provide free initial consultation for up to 1 hour. This allows us to answer your questions as well as determine requirements of your project.
We do both - we can quote for entire project if the project requirements are clearly defined. When project is in initial or ideation stage, we prefer to work on hourly basis at beginning.
- Contact Us
Please fill in contact form below and we will respond promptly. Please include as much detail about how we can help you as possible.
Our Location
Unit 216, 1325 Eglinton Ave E
Mississauga, ON L4Z 3K6
Canada
- Write Us
Success! Your message has been sent to us.
Error! There was an error sending your message.